 Yandex Managed Service for ClickHouse
Manage a fast analytical DBMS in the Yandex Cloud infrastructure.
Low upkeep
Invest your time in your project, and we'll take care of database maintenance: software backups, monitoring, fault tolerance, and updates.
Horizontal and vertical scaling
In Yandex Managed Service for ClickHouse, you can add hosts to a cluster, upgrade their class, and enable sharding to improve your cluster performance with just a click of a button.
Real-time processing of big data
ClickHouse is great at handling queries to large amounts of data in real time, while column-based storage saves space due to strong data compression.
Hybrid data storage
In Yandex Managed Service for ClickHouse, you can combine network drives and Object Storage. After a certain period, data stored on a network drive is automatically transferred to Object Storage.
Data security
All DBMS connections are encrypted using the TLS protocol. Data is secured in accordance with the requirements of local regulatory, GDPR, and ISO industry standards.
SQL queries in the management console
Visualize the data structure in your ClickHouse cluster and send SQL queries to databases from the management console.
Implement your projects using Managed Service for ClickHouse

Track incidents in your service and create reports in real time. Just set up a regular upload of large data packages to ClickHouse. To ensure maximum efficiency, we recommend that you send at least a thousand rows at a time.

Managed Service for ClickHouse provides a convenient way to aggregate information that you collect through various systems, including distributed ones. Your experts will be able to quickly visualize data, customize dashboards to meet their needs, and analyze events and business processes in real time.

Analytics for web projects and mobile apps
Managed Service for ClickHouse is designed primarily for analyzing flows of structured and fixed events and logging results. These tasks are often used in web project and mobile app analytics, advertising networks, e-commerce and finance, information security, business intelligence, online games, and IoT.
ClickHouse.Playground
Make queries to a test database and try out ClickHouse features. The playground is deployed on Yandex Managed Service for ClickHouse.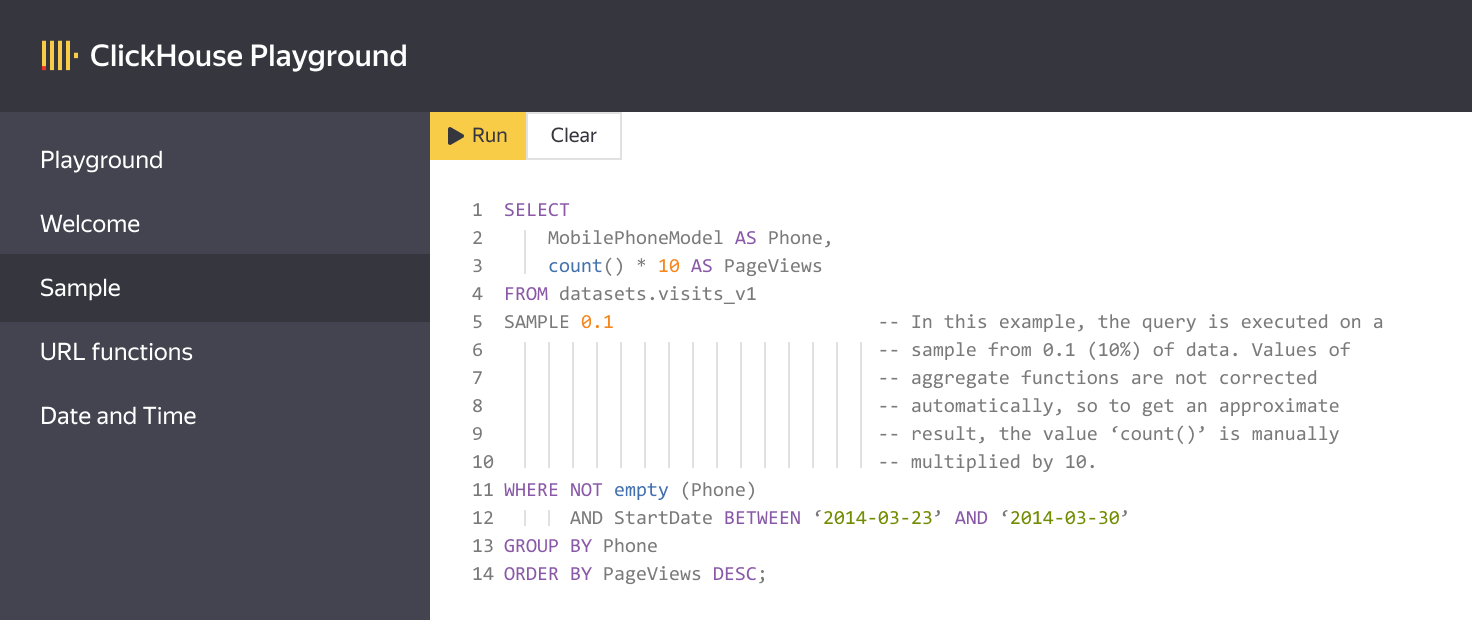 We'll take care of most of database maintenance
Managed Service for ClickHouse
ClickHouse self‑installation
OS and software installation
Data storage and hardware security
Integration with Yandex Cloud services
Control on the Yandex Cloud side
Getting started
Select the necessary computing capacity and create a ready-to-use ClickHouse cluster.
What version of ClickHouse does Managed Service for ClickHouse use?
Managed Service for ClickHouse uses the latest stable version of ClickHouse. You can change the ClickHouse version that the cluster uses. You can view a list of available versions on the create and modify cluster screen in the management console.
What part of database management and maintenance is Managed Service for ClickHouse responsible for?
When creating clusters, Managed Service for ClickHouse allocates resources, installs the DBMS, and creates databases.
For created and running databases, it automatically creates backups and applies fixes and updates to the DBMS.
The service also provides data replication between database hosts (both inside and between availability zones) and automatically switches the load over to a backup replica in the event of a failure.