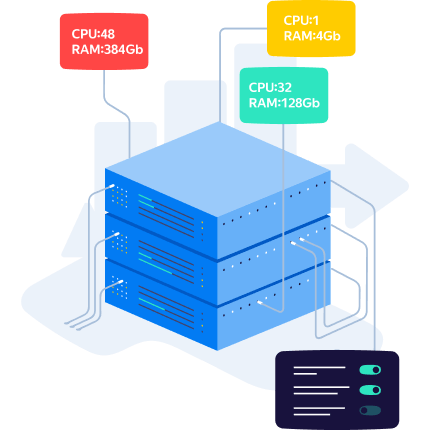 The service provides secure and scalable computing capacity in the cloud. You can decide how many cores and disks you need, define your block storage, the amount of RAM, and select the operating system and availability zone for your virtual machine.
You can manage your virtual machines via the management console, command line interface (CLI), API, or SDK.
The Yandex.Cloud infrastructure is protected in accordance with Federal Law No. 152.
Flexible choice of resources

Virtual machines with GPU

Create virtual machines on a platform with NVIDIA® Tesla® V100 GPUs. These virtual machines can be used for complex computing tasks, including Machine Learning (ML), Deep Learning (DL) and Artificial Intelligence (AI).

You don't have to install software on your virtual machine from scratch. We have already prepared and tested a number of popular images with pre-installed sets of software to match typical tasks. For instance, you can choose a LAMP server (Linux, Apache, MySQL, PHP) or an image with tools and libraries for data analysis based on machine learning algorithms.

You can easily change the number of virtual machines to fit your current performance needs. It is a matter of minutes to change the amount of resources, so you can always control your spending.

Different availability zones

When creating a virtual machine, you can put it in any of three geographically distributed availability zones. Each zone uses independent infrastructure, so short-term issues in one zone won't affect the other zones.

The fee for a virtual machine starts at 116 roubles per month*. The fee depends on the number of cores, RAM capacity, operating system, and usage time. Connected disks and network resources are charged separately. However, you don't have to pay for time when the virtual machine is shut down.

Your can easily connect network disks to your virtual machine to store your data. The content on the disk is saved regardless of which machine it is connected to. To back up the data, you can create a snapshot of your disk. All snapshots are automatically replicated and full copies appear immediately in other availability zones.

Live migration**

Live migration is used in Yandex Compute Cloud during scheduled software updates and hardware maintenance. Live migration allows to move running virtual machine between physical servers without interrupting work and services availability.
Use cases
If you host your website in Yandex.Cloud, it is easier to scale your infrastructure to adapt to changing needs. For instance, you can quickly redesign the infrastructure to ensure availability for a growing audience. The cloud also makes it easier to protect your project from network attacks and downtime.

Virtual machines offer a convenient way to benchmark the test versions of your products. Before launching some new components, make sure to run load testing, functional testing, and regression testing on them. Moreover, with Yandex Compute Cloud you can quickly prototype your solutions and test your ideas at early stages of development.

If your server goes down, don't rush to repair or replace it. This might be the right time to migrate to a cloud-based solution to safeguard you from further problems.
Try Yandex Compute Cloud:
*

All cost examples are based on 720 hours per month usage, including VAT.

**

Not every virtual machine may be moved with live migration. Find more about the restrictions in documentation.