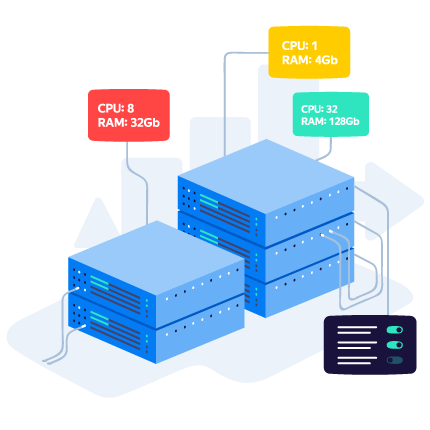 A component of the Yandex Compute Cloud service designed for deployment and scale-out of virtual machines. It allows you to create groups of similar virtual machines in the Yandex.Cloud infrastructure.
The Yandex.Cloud infrastructure is protected in accordance with Federal Law No. 152.
You define the characteristics of virtual machines in a group, their target number, and policies to be used for virtual machine creation and crash recovery. The component automatically creates the necessary machines and ensures that their number and status in the group comply with the set policies.

Deployment in multiple availability zones

When creating an instance group, you can select Yandex.Cloud availability zones to evenly distribute the group virtual machines across. Each zone is isolated from hardware and software failures that may occur in other availability zones, so short-term issues in one zone won't affect the other zones.

Integration with load balancers

You can create an associated target group for an instance group in Yandex Load Balancer and attach it to a network load balancer. The list of target resources in the associated target group is automatically updated when creating or deleting instances.

Configurable auto scaling

When the load on your application increases or decreases, you can automatically adjust the number of instances in a group within a set range.
Use cases
Yandex Instance Groups will help you deploy an infrastructure for various testing tasks with the appropriate computing resources and settings:
— To quickly deploy your infrastructure, create a group of identical instances with the specified characteristics based on a single pre-configured image.
— To upgrade the test infrastructure to the latest version, re-create virtual machines in the group from the updated image.
— To adapt the infrastructure to changing loads when running tests, create an instance group with auto scaling.

The load on a web service may vary depending on the time of day, day of week, or month, as the number of requests may significantly increase or decrease from time to time. Use instance groups with auto scaling for your web service. This will allow you to reduce or expand the group size automatically as needed to scale your web service's performance up or down. With Yandex Instance Groups, you can use and pay for only those instances that you need at a particular time.
Try Yandex Instance Groups: