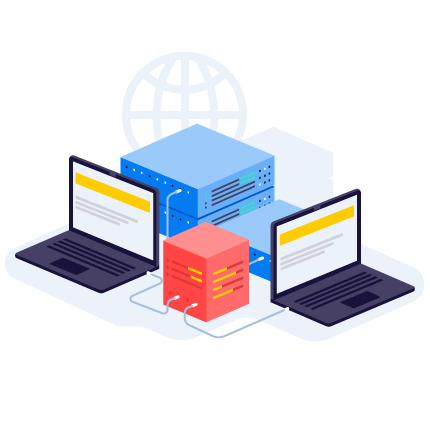 The service allows you to create and configure load balancers to ensure your application's fault-tolerance and distribute network traffic across cloud resources.
Load balancers monitor cloud resourses state by sending health check requests and exclude resources that didn't pass the check. You can set the intervals and thresholds of these health checks.
The Yandex.Cloud infrastructure is protected in accordance with Federal Law No. 152.
Elasticity under increased load

When incoming traffic changes abruptly, you don't need to reconfigure the load balancers. They evenly distribute any volume of information among target resources. When target resources are located in multiple availability zones, the service ensures elasticity and fault-tolerance: if the resources in one zone are not ready to accept the traffic, it is re-routed to the resources in other zones.

Load balancers distribute the load across target resources taking into account the address and port of the client from which information is transmitted, the addresses and ports of the resources available for receiving traffic, and the network protocol. When a resource is selected for a specific client, packets are sent to this resource as long as health checks confirm that it is ready to receive traffic. As long as the application configuration and status are unchanged, new client requests are always directed to the same resource.

Yandex Load Balancer uses technologies running at Layer 4 of the OSI model. This allows load balancers to process network packets with minimum delay. This also minimizes the number of factors that affect the system. In other words, it guarantees high performance.

Checking availability of resources

Load balancers automatically check whether the resources selected for receiving traffic are actually ready to receive it. For this purpose, a load balancer performs active TCP or HTTP checks following the user-defined rules. If the application is not ready, client requests will not be sent to it.

If it is important for your application that target resources take the client IP address into account, with Yandex Load Balancer you don't need to configure additional settings and parse service headers. The client's IP address is stored in the request's network packet.

It is easy to control expenses on Yandex Load Balancer: you are charged only for the number of network load balancers and the volume of incoming traffic.
Use cases
You can group multiple virtual machines and distribute them across one or more availability zones. Yandex Load Balancer will take care of this and you will be able to focus on more important tasks.

The optimal configuration of a complex web service involves hosting the frontend on a dedicated server. When the number of web service users increases dramatically, a single frontend server may not be enough. If you use multiple virtual machines with the frontend, you can distribute web traffic across them using a load balancer created in Yandex Load Balancer.
Try Yandex Load Balancer: