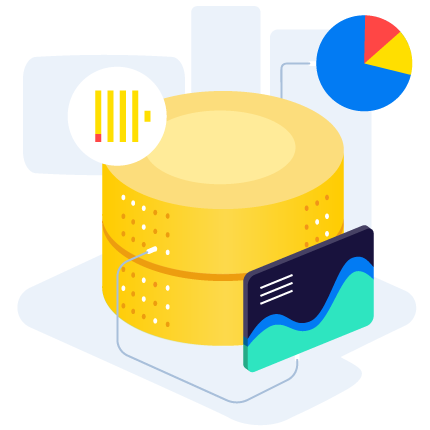 Yandex Managed Service for ClickHouse
Helps you deploy and maintain ClickHouse database clusters in the Yandex.Cloud infrastructure. ClickHouse is an open source column-oriented DBMS.
ClickHouse processes hundreds of millions to more than a billion rows and tens of gigabytes of data per single server per second. Ideal for performing analytical queries on structured big data in real time.
The Yandex.Cloud infrastructure is protected in accordance with Federal Law No. 152.
Fully managed ZooKeeper service

Service provides automatic hosts integration in a cluster with a dedicated installation of the Apache Zookeeper service, which provides replication functions in this DBMS. Most actions for ZooKeeper management will run automatically.

Yandex.Cloud takes care of maintaining the databases and updating the DBMS to the latest versions. At the same time, you can easily configure the databases, restore them from backups, view logs, and use charts to monitor key performance indicators.

Replicas in different availability zones

If necessary, you can create cluster hosts in different availability zones. Data replication between ClickHouse hosts is performed automatically and asynchronously. Even with multiple replicas, the system remains transparent and easy to use: you can write and read data from any host in the cluster.

In Yandex Managed Service for ClickHouse, all DBMS connections and backups of the database contents are encrypted. Connections are secured via TLS. Public-key encryption is used for backups. Moreover, the databases of different Yandex.Cloud customers are completely isolated from each other. The databases do not use any shared components, so no one else can access the data you have uploaded.

Yandex Managed Service for ClickHouse uses fast NVMe-enabled solid-state drives. They ensure high performance even when handling large amounts of data.
Use cases
You can track incidents in your service via instant requests and immediately see changes in metrics such as error rate, user response time, and others. Just set up a regular upload of large data packages to ClickHouse. We recommend that you send more than a thousand rows at a time.

ClickHouse provides a convenient way to aggregate information that you collect through various systems, including distributed ones. Your experts will be able to quickly visualize data, customize dashboards to meet their needs, and analyze service events and business processes in real time.

ClickHouse is designed primarily for analyzing flows structured, and fixed events and logging results. Examples of where these types of flows occur:
— Web project and mobile app analytics
— Advertising networks and RTB (Real Time Bidding)
— Telecommunications
— E-commerce and finance
— Information security
— Business analytics
— Online games
— Internet of Things
Try Yandex Managed Service for ClickHouse: