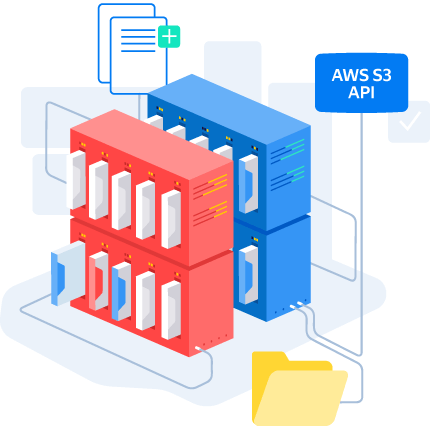 Universal, scalable solution for data storage. The perfect choice both for high-load services, which require reliable and fast access to data, and projects with minimum requirements for storage infrastructure.
You can manage data access with popular tools to work with object storage — the service API is compatible with the Amazon S3 API.
The Yandex.Cloud infrastructure is protected in accordance with Federal Law No. 152.
The data you upload to the object storage is stored as multiple copies in geographically distributed availability zones. There's an automatic replication in Yandex Object Storage: each replica changes when original objects are edited, created or deleted.

Standard and cold storage

There are two classes of Yandex Object Storage. The standard storage is designed for frequently accessed data, while the cold storage is designed for data rarely accessed by you (or your users). 1 GB of standard or cold storage costs 1.24 or 0.66 roubles, respectively. You can manage object lifecycles thus control storage size.

Flexible space adapts as needed

Yandex Object Storage provides as much space as the project actually uses. Storage is expanded as needed, without any additional effort on your part.

To exchange data with Yandex Object Storage, you can use the same tools as for Amazon S3: HTTP and REST API, console-based and graphical client, as well as Java and Python SDK.
Use cases
Keep your website source code and data in Yandex Object Storage, and the storage architecture will ensure high speeds for animation and webpage loading.

The object structure is tailored to music, video, and images (i.e., for unstructured data). If you are running a multimedia service, Yandex Object Storage is the appropriate solution for you. The same is true for any service that needs backup copies: they are always available, thanks to data replication.

Yandex Object Storage is a perfect solution for services that require backups — their availabilty in Yandex.Cloud is supported by automatic replication.

Yandex Object Storage allows to store any amount of statistics. Use it to improve the quality of products and services using machine learning. To create the initial version of the algorithm you need to create training sets — this typically involves historical business data. The results directly depend on the size of your data set.
Try Yandex Object Storage: